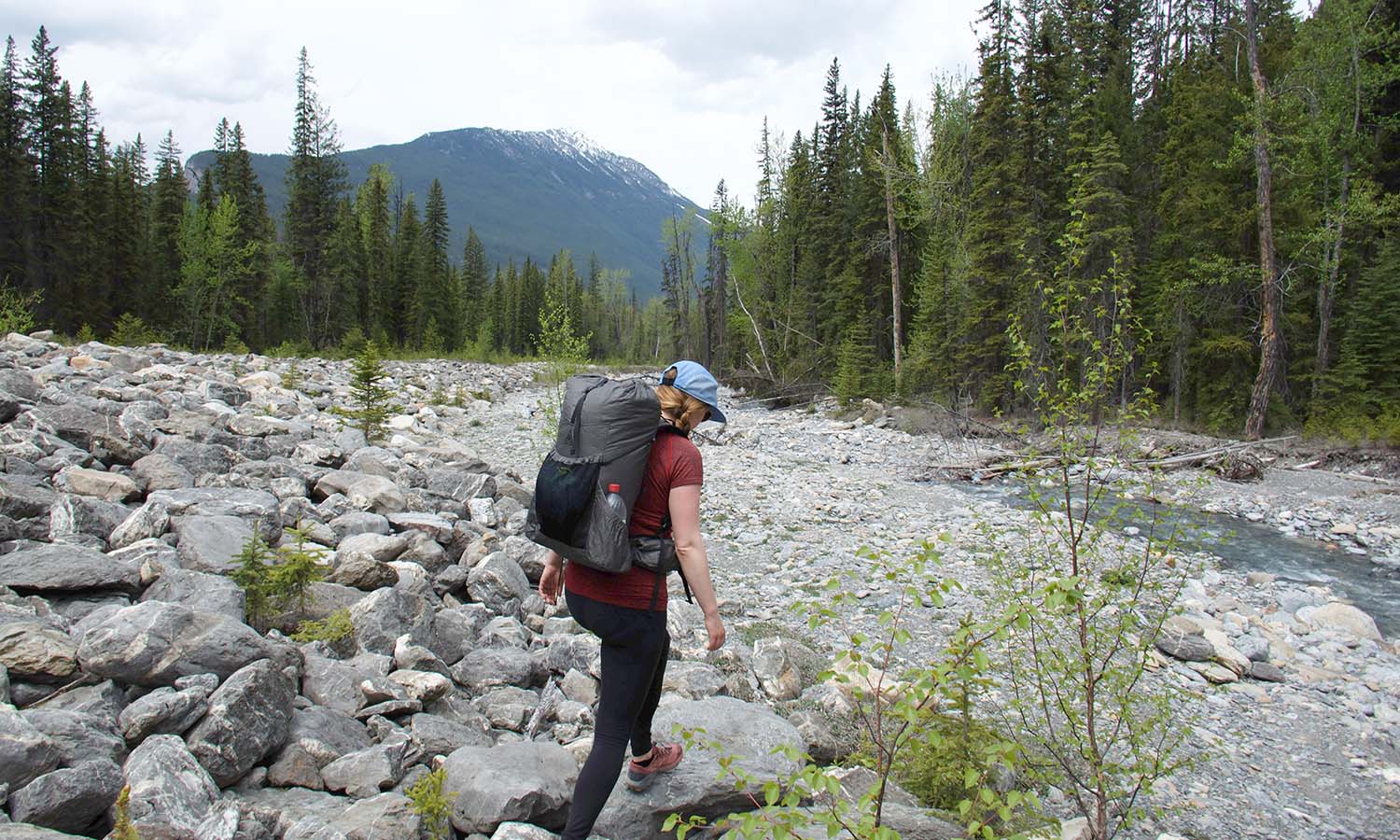 He's at it again! Madman Canadian adventurist and gear designer Dan Durston has dropped the Durston Gear Kakwa 40 Ultralight Backpack. "But Andrew, it looks like every other ultralight backpack out there!" Now hold on… While I am a Durston Gear fanboy, hear me out about this release.
IMAGE SOURCE: DURSTON GEAR
This pack comes in at 770 g for Small, 790 g for Medium, and 810 g for Large. Okay, so we have an ultralight rolltop backpack that can hold a jacket and two smart water bottles? What else does Dan have up his sleeve?
Kakwa 40 – Load Capability
The Kahwa 40 has an internal inverted U frame made from 8mm hollow tube aluminum. The grade of aluminum was not listed, but let's guess and say 7071? The frame weighs 100g.
ORIGINAL IMAGE SOURCE: DURSTON GEAR YOUTUBE
Load lifters on the shoulder straps help adjust the closeness of the pack to you and help transfer weight better than other weight weenie pack without.
ORIGINAL IMAGE SOURCE: DURSTON GEAR YOUTUBE
A Dual strap hip belt cinches closer to the pack side of the bag instead of near the buckle. This dual strap connection helps with load transfer to the hips.
ORIGINAL IMAGE SOURCE: DURSTON GEAR YOUTUBE IMAGE SOURCE: DURSTON GEAR
S-shape shoulder straps help stay snug to your body in a way that is more comfortable than typical straight straps. Ergonomics, right? I've heard they're better for those who have smaller shoulders as compared to hips, too.
IMAGE SOURCE: DURSTON GEAR
A sternum strap is also on the backpack, not much is able to be gleamed about it. Does seem to be adjustable both width wise and vertically.
Kakwa 40 – Features
Your typical ultralight pack has the side pockets for water bottles, hiking poles, or umbrella. Durston's Kahwa 40 bag has these made from durable material, but also installed pockets in the same area! This way, you can keep a camera, hat, or other goodies in these double walled pockets right at your fingertips!
ORIGINAL IMAGE SOURCE: DURSTON GEAR YOUTUBE
Hip belt pockets are 3d like those fancy vidya' games kids play these day. The pockets are made to fit more stuff than just your little tube of chap stick and your wallet. The hip pockets can fit snacks, phones, etc. It is reported the YKK AquaGuard zippers are easy to use one handed.
IMAGE SOURCE: DURSTON GEAR – Is that phone from like, 2009???
Side pockets are different from one side to the other. Left arm pocket is taller and can accommodate many things other than water bottles. Right hand pocket has a downward cut for ease of sliding water bottle back in and out. Dan reports you can fit two bottles in there, but I still feel the cut is a little low for some double bottle action. I feel a second bottle would slip out once you start moving about.
ORIGINAL IMAGE SOURCE: DURSTON GEAR
Two soft cinchable pockets on the shoulder straps allow for ease of carrying things like a phone, glasses, or bear spray.
IMAGE SOURCE: DURSTON GEAR – I think my grandma has that phone!
Pleated mesh front pocket is for stashing jackets, spare clothes, etc. The mesh is low stretch, pleated to keep things flat when not in use, and in a durable knit design.
ORIGINAL IMAGE SOURCE: DURSTON GEAR YOUTUBE
You can also see in the photos that all elastic straps are covered in pack material to protect from nature and/or stupidity.
IMAGE SOURCE: DURSTON GEAR
A V-shaped top strap is a lightweight feature to hold bear canisters or tent on top of the bag. I like the idea of keeping my tent outside of the main compartment, especially if I didn't get all condensation out before packing up.
IMAGE SOURCE: DURSTON GEAR
Kakwa 40 – Materials & Quality
A new pack fabric called Ultra 200 – Ultra high molecular weight polyethylene (UHMWPE) & high-tenacity polyester weave is 3.5oz/yd. This material makes up most of the pack. Ultra 200 is 5x stronger/abrasion resistant than typical nylon while weighing less. Ultra 200 is waterproof to 200 psi.
For pack construction, seams are all folded and double stitched. Dan reports manufacturing is completed in a facility with high QC rates, with brands like Arc'teryx being built at the same location.
Specifications
As Per Durston Gear's site:
Sizing
Small: 14.5 – 17.5″ / 37 – 45 cm Medium: 16.5 – 19.5″/ 42 – 50 cm Large: 19 – 22″ / 46 – 55 cm
Hipbelt is a single size that fits 28″ – 42″ waists
Weight
Complete backpack:
Small: 770 g / 27.1oz Medium: 790 g / 27.8 oz Large: 810 g / 28.5 oz
The frame (100 g / 3.5 oz) and backpad (15 g / 0.5 oz) are removable.
Dimensions
Unrolled height: 31″ / 79 cm (S), 33″ / 84 cm (M), or 35″ / 89 cm (L) Top circumference: 36″ / 91 cm Bottom circumference: 31″ / 78 cm
Warranty: 1 year against defects
Social Media
You can find more info about Dan Durston's insane plans to rule the backpacking world at the following sites:
Official Site Facebook Instagram Youtube
Come join Alloutdoor's Discord server and chat about Archery, Firearms, Fishing, etc. with others! Sneak peaks, early notifications, and perks await. We have a Tiktok account, too!
The post Durston Gear Announces NEW Kakwa 40 Ultralight Backpack appeared first on AllOutdoor.com.