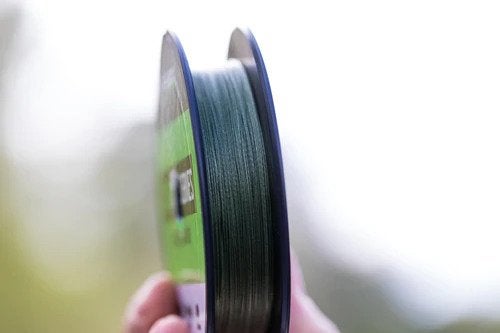 With summer right around the corner, bass fishing is in full swing. It's about the time to start flipping frogs into heavy cover and vegetation, flip baits into timbers and brush, and punch jigs and Texas rigs through grass mats. SPRO has introduced the new Essential Series Bronzeye Braid 8x for just this purpose. It is available in moss green color, and in four different pound tests: 40 Lb, 50 Lb, 60 Lb, and 80 Lb test. Each pound test is available in 150-meter spools.
"Our Essential Bronzeye Braid 8x fits well into SPRO's system approach to fishing, and in this case, we make it easy for anglers to select the right braided line to use when fishing frogs or flipping," said Syd Rives with SPRO. "Whether a new angler to our sport or a seasoned pro competing in club events or on various tournament circuits, our 'system approach' is all about making all the tackle selection easy so you can concentrate on your time on the water."
The new Essential Series Bronzeye Braid 8x is made in Japan to SPRO's specifications for a line that gives a premium line performance at a budget line pricing. The eight carriers of this line make for a smooth casting and supple handling braid. It is perfect for the influx of new anglers who are starting to expand their technique repertoire into flipping frogs and jigs into heavy cover. The heavier weight of the braid gives it the thickness needed to stand up to rubbing up against the structure you will be fishing in. You can check out the new Spro Bronzeye Braid 8X here:
SPRO Fishing Line Essential Series Bronzeye Braid 8x Features
Essential Series Braid 8X Premium Product at Affordable Price Made in Japan 8X Braid For Frogging and Flipping Moss Green Color 150m spools MSRP – $19 Spool of SPRO Essential Bronzeye Braid 8x
The post NEW SPRO Fishing Line Essential Series Bronzeye Braid 8x appeared first on AllOutdoor.com.