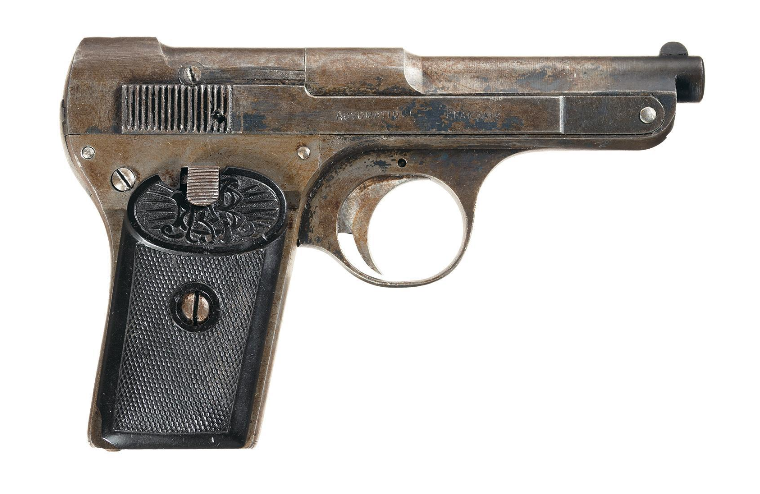 Welcome to today's Photo of the Day! Here we have a very interesting blip in history. When John Moses Browning unveiled his revolutionary – and arguably first modern pistol design in the form of the FN 1899 – and shortly after the FN 1900 at the start of the 20th  century, it set the world on fire. So, much so that there is a plethora of information out there about them (make sure to check out my Curious Relics articles on the matter). Weirdly enough, there is very little on France's introduction into the auto-loading pistol game. This being our POTD, the French Bernardon Martin Semi-Automatic Pistol. From what I have read these were made in small batches and in three equally short iterations all containing small changes, mainly to do with how to load and unload the firearm. These. however good or not good, were a decent effort on gunmaker Martin's part, but they could not live up to the popularity of John Moses Browning's FN 1900.
Lot 2608: Bernardon Martin 1907 1908 Pistol 7.65 mm auto. (n.d.). Rock Island Auction Company. photograph. Retrieved March 31, 2022, from https://www.rockislandauction.com/detail/1027/2608/bernardon-martin-1907-1908-pistol-765-mm-auto.
The post POTD: Rare Bernardon Martin Model 1907-1908 Semi Automatic Pistol appeared first on AllOutdoor.com.