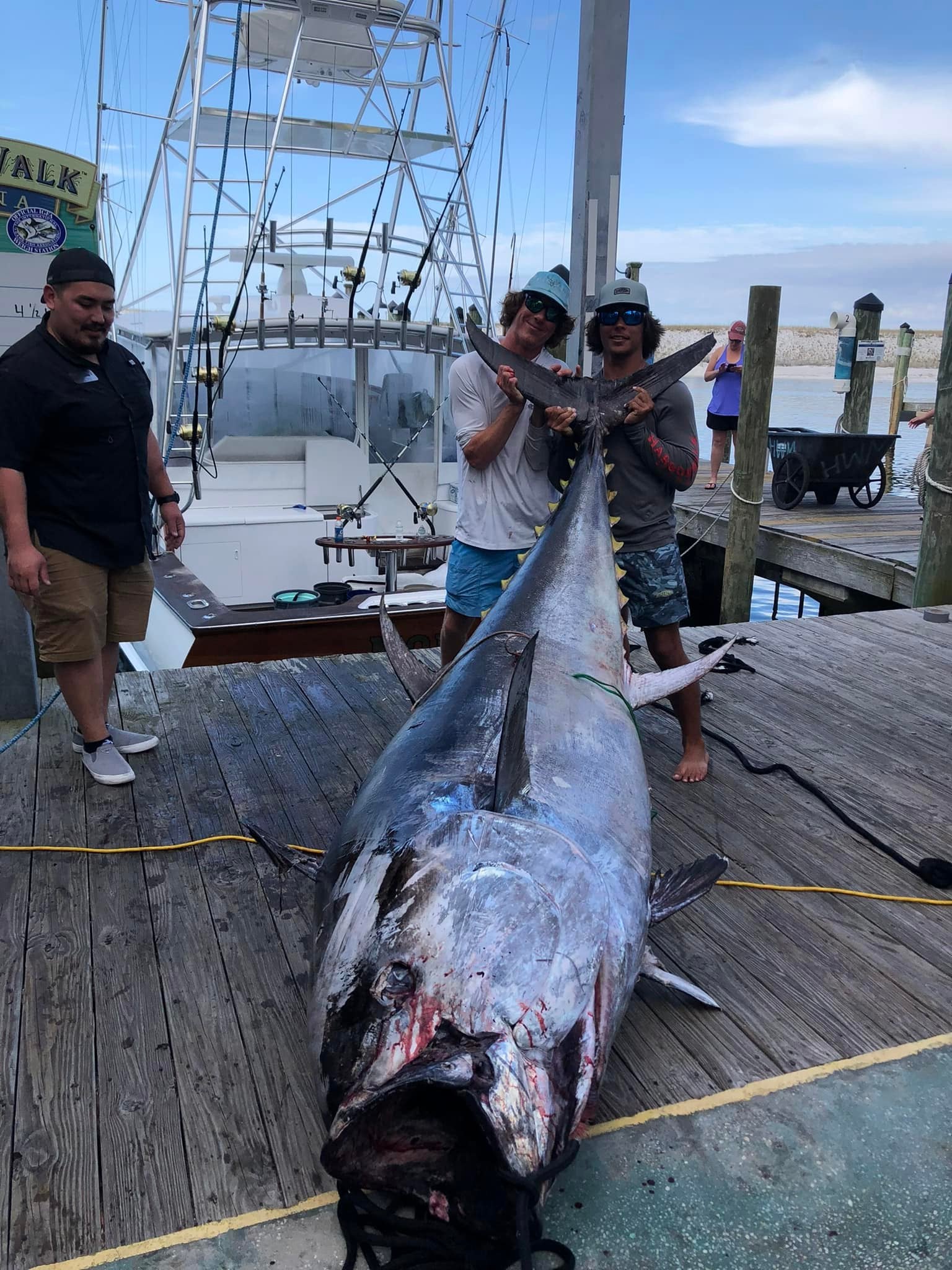 A possible new state record Bluefin Tuna was caught this Easter Sunday, 2022. Captain Jake Matney of the boat No Name with deck mates Devin Sarver and Jett Tolbert reeled in an 832.2-pound bluefin tuna. They hooked up to and caught this fish 160 miles off the coast of Destin, Florida.
The team of three aboard the No Name launched out of the port of Destin the day before with plans to chase marlin far offshore. After steaming out 160 miles into the gulf they hooked into this monster and fought this fish for almost 5 hours. The fight was a team effort with the turns being taken to fight this giant. After the grueling fight and pulling the fish partially through the tuna door and covering and icing their catch They ran back into the Harbor Walk Marina in Destin to get a weight and photos of their record catch.
Posing with the potential record Bluefin on the docks (photo courtesy of April Sarver)
This bluefin tuna has yet to be certified as a state record. The Florida Fish and Wildlife Conservation Commission has yet to announce that this fish is the new official state record. The current standing Florida state record bluefin tuna is held by an 826-pound fish that was also hooked off the Destin coast in 2017. Either way, if certified as the new state record or not this is the largest bluefin tuna that has been landed in Florida.
Uncertified state record at 832.2 pounds!!!Words cannot express how greatful I am! What happened to us the ups and downs of this battle make for a great story with great people! 5 hours before this fish was all said and done, THIS IS WHAT DREAMS ARE MADE OF! I've never had so much respect for a fish and to catch him in the Gulf of Mexico is a feat of it's own!! this bluefin was as bad as they come, God is great! #epic #AllGloryToGod
–Devin Sarver
Bluefin tuna caught on the Noname after a 4 1/2 hour fight (photo courtesy of April Sarver)
The post Record Breaking 832 Lb Bluefin Caught in Destin, Florida appeared first on AllOutdoor.com.